In a global economy there is a growing need for companies to obtain protection for the same invention through patents in various countries.
According to OECD figures, which use an indicator based on the percentage of priority applications for which protection extends to other regional and national offices (see graph), there is a growing trend among Spanish companies to protect their inventions internationally, specifically using PCT and European (EPO) patent channels as protection procedures.
An analysis of individual country data indicates that the most popular destinations are China, United States, Canada and Japan.This behaviour is very similar to that of other European countries.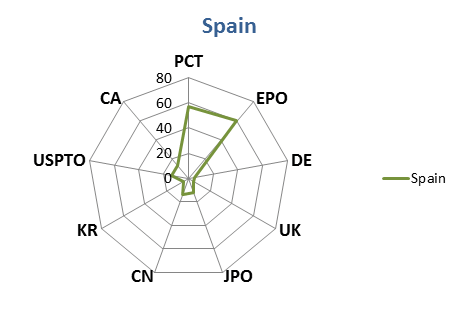 There are a number of options for protecting an invention outside Spain, and applicants should decide which is the best for them based on different criteria: the geographic location where protection is sought, the language in which the application will be processed, the costs they are able to assume and the timeframe in which they wish to obtain the patent.
To facilitate access to international protection systems, the SPTO offers financial support for obtaining patents abroad through a programme of grants which are offered annually. For detailed information on these grants, go to the following section:
There are a number of options for internationalisation:
1. The PCT channel
Under this system, the procedure is initiated simultaneously in 148 countries by filing a single application (http://www.wipo.int/pct/en/).
Spanish applicants have an important advantage, as the SPTO is an International Search and International Preliminary Examination Authority, which means that it can carry out all international patent-related procedures up to entry in the National Phase (month 30 from the priority date) in Spanish and in an accessible manner.
This channel allows online applications, and the files containing the description, claims and drawings can be submitted in PDF or XML format using the PCT-Safe Editor programme. Depending on the method used, significant discounts can be applied to the filing fees, so the SPTO recommends using the online filing method.
It is important to indicate that for certain Latin American countries, the SPTO offers significant discounts on the PCT procedure fees.
2. The European Channel
This channel leads to granting of a patent that may be valid in up to 38 European countries (member countries in May 2011).
This application can be filed in Spanish, in which case it is eligible for a 20% discount on the filing fee (for any of the online or paper-based categories) and an additional 20% discount on the examination fee (Rule 6.3 of the European Patent Convention). This application must be translated into one of the official languages within three months.
If it is a EuroPCT application, that is, an international patent application which has entered a regional phase in Europe, and the international search report has been carried out by the SPTO, the Supplementary European Search Report fee will be reduced by 900 euros, which is equivalent to a discount of more than 80% on the fee.
3. Patent Prosecution Highway (PPH).
In order to promote internationalisation, the Spanish Patent and Trademark Office (SPTO) has signed a series of agreements known collectively at the international level as the Patent Prosecution Highway (PPH). These allow SPTO applicants to request fast-track processing at another office participating in the PPH programme, as long as certain requirements are met. These agreements facilitate information exchange between offices, avoid duplication of effort and speed up granting procedures, which enables us to provide better service to patent applicants.
In addition to the aforementioned bilateral agreements, and in order to simplify the PPH network, the SPTO is part of a pilot programme called Global PPH (GPPH), which allows for requesting fast-track examination in any more than 20 countries currently participating in this programme.