Since its creation, the SPTO has been constantly committed to quality; aware of the fact that it's a fundamental element required for achieving a new Administration capable of responding to challenges stemming form societal transformation and the demands of its citizens.
On May 9, 2009 the COTEC 2009 report was represented. At the presentation some remarks were made, overall in positive terms, regarding some of the aspects of Spain 's situation in the patent industry. It highlighted, for example, that patents represent the only positive indicator of innovation output over the period analyzed.
In regards to international applications presented as of February 1, 2009, there has been a change in conditions for obtaining the 75% reduction in the international search fee to be paid to the Spanish Patent and Trademark Office as Administration for International Search.
The SPTO is launching a new electronic presentation program for Internet Appeals:
•By means of the electronic Appeal, the SPTO offers a measure outlined in its Strategic Plan adapted to Electronic Administration.
•This measure facilitates procedures for filing administrative Appeals to SPTO resolutions.
The General Director of the Spanish Patent and Trademark Office (SPTO) will lead the selection process of the new President of the European Patent Office (EPO) with its headquarters in Munich.
Requests realized during May
More information in OEPM's web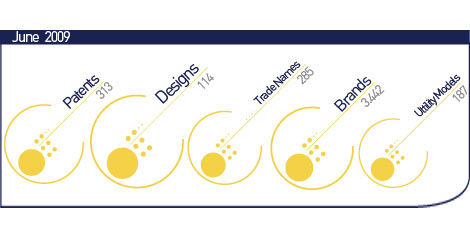 General Management Support Unit.
Statistics and Studies Service